Stuck at home: Love Your Brows in Between Salon Appointments
With so much uncertainty these days, there is one thing that actually is certain – our beauty routines have been disrupted in a big way. Getting back to regularly scheduled self-care appointments has been slow while waiting for salon professionals to put systems into place to ensure safety. It's made us appreciate how much we love the little things – like gorgeous, freshly groomed brows post-waxing. So, since your wait time between visits is probably longer these days, we're here to share some Kelley Baker-approved tips for how to keep your eyebrows in shape until you can get back to your regularly scheduled appointments. But before we get into the secrets of how to take care of your eyebrows like a pro, let's look at some of the most common mistakes most make when maintaining eyebrows between appointments. These are the things we beg you NOT to do between your brow appointments.
WHAT ARE THE COMMON MISTAKES PEOPLE MAKE IN BETWEEN SALON VISITS?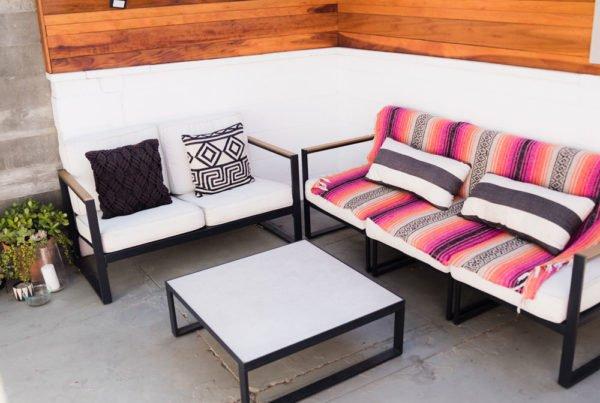 Eyebrow care at home can be tricky if you don't know what you're doing, and since we always advocate putting your best brow forward, we're here to warn you away from these common mistakes. Let's start with the question we hear most often – how often should you pluck your eyebrows? Honestly, it's really easy to get carried away with tweezers, so we actually recommend you try not to pluck between your waxing treatments.
Another common question regarding how to maintain eyebrows is when to trim between appointments. And the answer is – never! So, just put the scissors down and wait until your next brow appointment.
And finally, please, please don't dye your eyebrows at home. Performing a DIY dye job on your eyebrows can result in disaster, not to mention potential damage if you do not use a professional, salon-quality formula. There are plenty of other ways to define your brows with high-quality products – which we'll tell you about in a bit – until you can get back to the salon.
Before we dive into how to keep your eyebrows in shape after waxing and between appointments, there's one thing to keep in mind – beautiful brows take patience. As you'll see, much of our advice will require you to actually leave your eyebrows alone between visits, and this is because brow hair, like any other hair, grows in cycles. Kelley's recommendation on how often to pluck eyebrows (if you have to!) is every 4-5 weeks, which equates once per cycle. Keeping the tweezing at a minimum will keep the brows growing and give your professional a fuller brow to shape and define.
Now that we've established that patience is a brow virtue let's get on to the good stuff! Here are our top Kelley Baker-approved tips on how to maintain your waxed or threaded eyebrows between appointments and keep them in tip-top shape for professional grooming.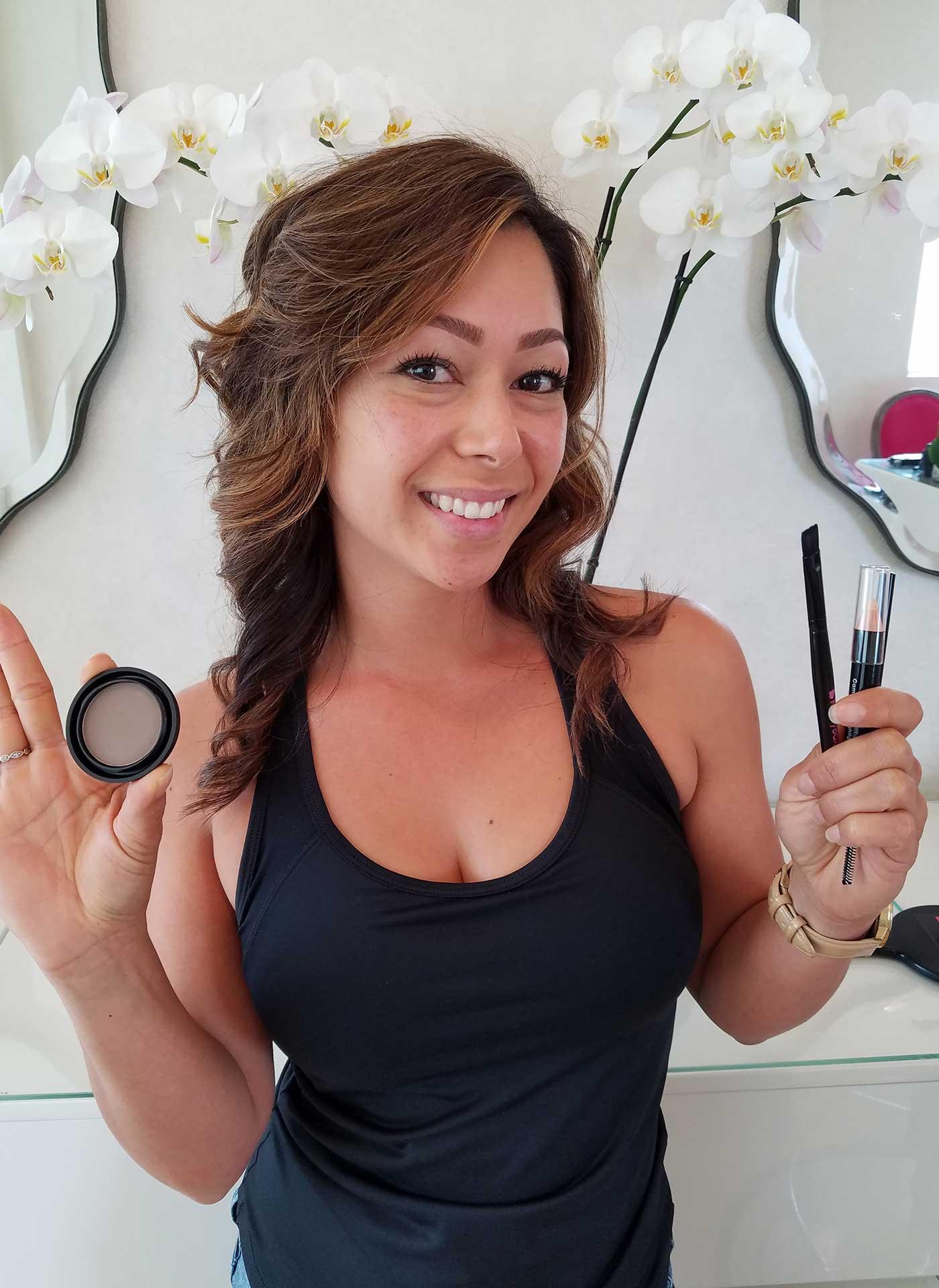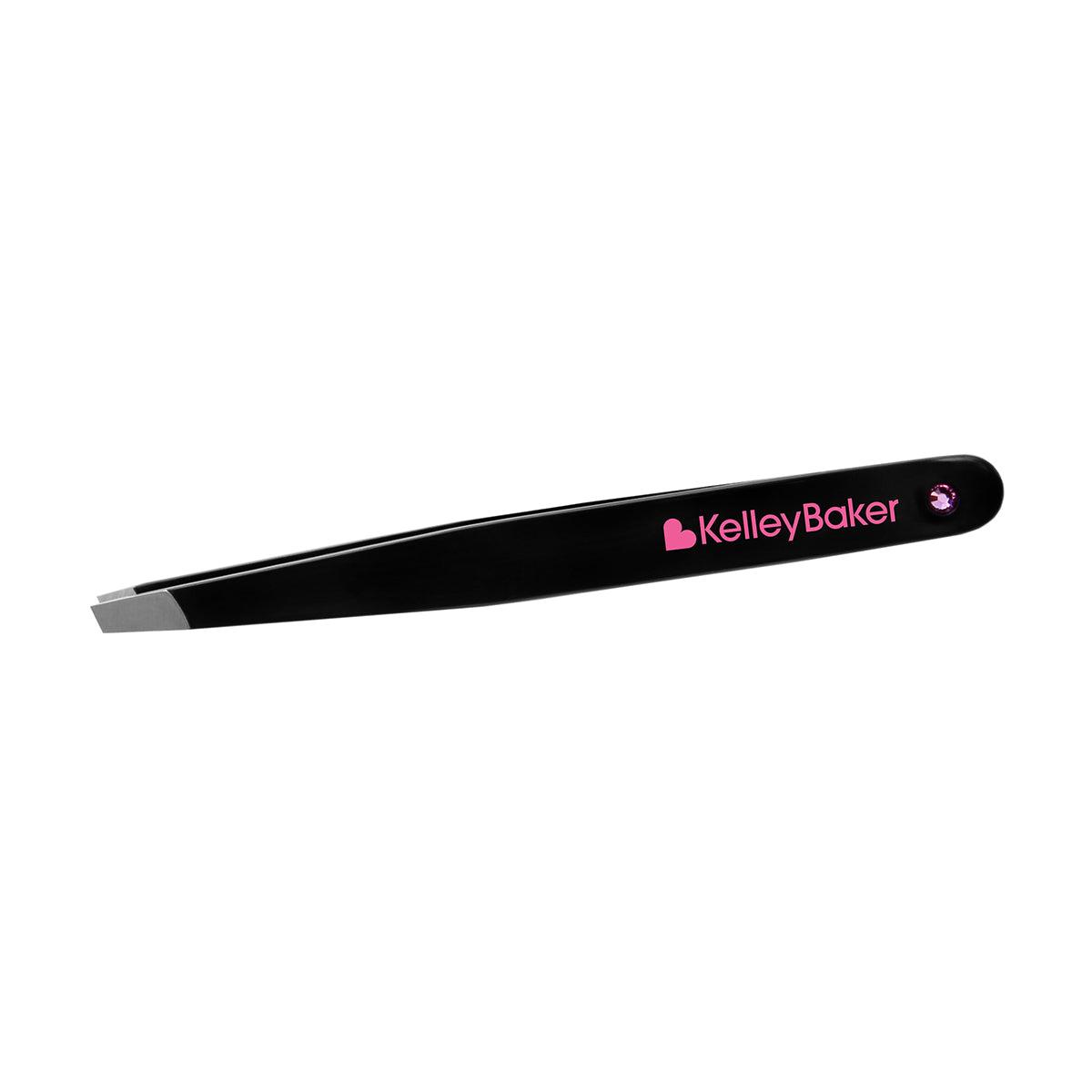 AVOID TWEEZING
When asked how often to pluck eyebrows – our knee jerk answer is never. Every time you pluck, you are just interrupting the eyebrow hair growth cycle. This will make it more difficult for your brow stylist to clean up those hairs at your next appointment because they may not be long enough to wax.
On average, it takes approximately eight weeks for brow hairs to fully grow back. So, if you really need to know how often to pluck your eyebrows between waxing appointments, then the answer is still every 4-5 weeks. It will keep your brow hairs on the same growth cycle and earn a nod of approval for your willpower!
PLUCK ONLY THE STRAYS
If you can't escape the urge to pluck, then just focus on the noticeable stray hairs. These are the hairs that are growing outside the eyebrow shape your stylist worked so hard to achieve. Everyone gets those stray hairs that are not part of the brow party. They grow well below your defined eyebrow shape and can be pretty noticeable. So, if you HAVE to tweeze, then just stick to these obvious outsiders. That way, you won't disrupt your eyebrow shape while keeping your eye area looking "cleaned up" until your next appointment.
Also, we highly recommend leaving the hairs above the brow completely alone. You may see a little growth up there between appointments, but it's all too easy to over-tweeze up there. Rather than pluck, just cover the little strays in that area, and we'll get into how to do that a little later in this article.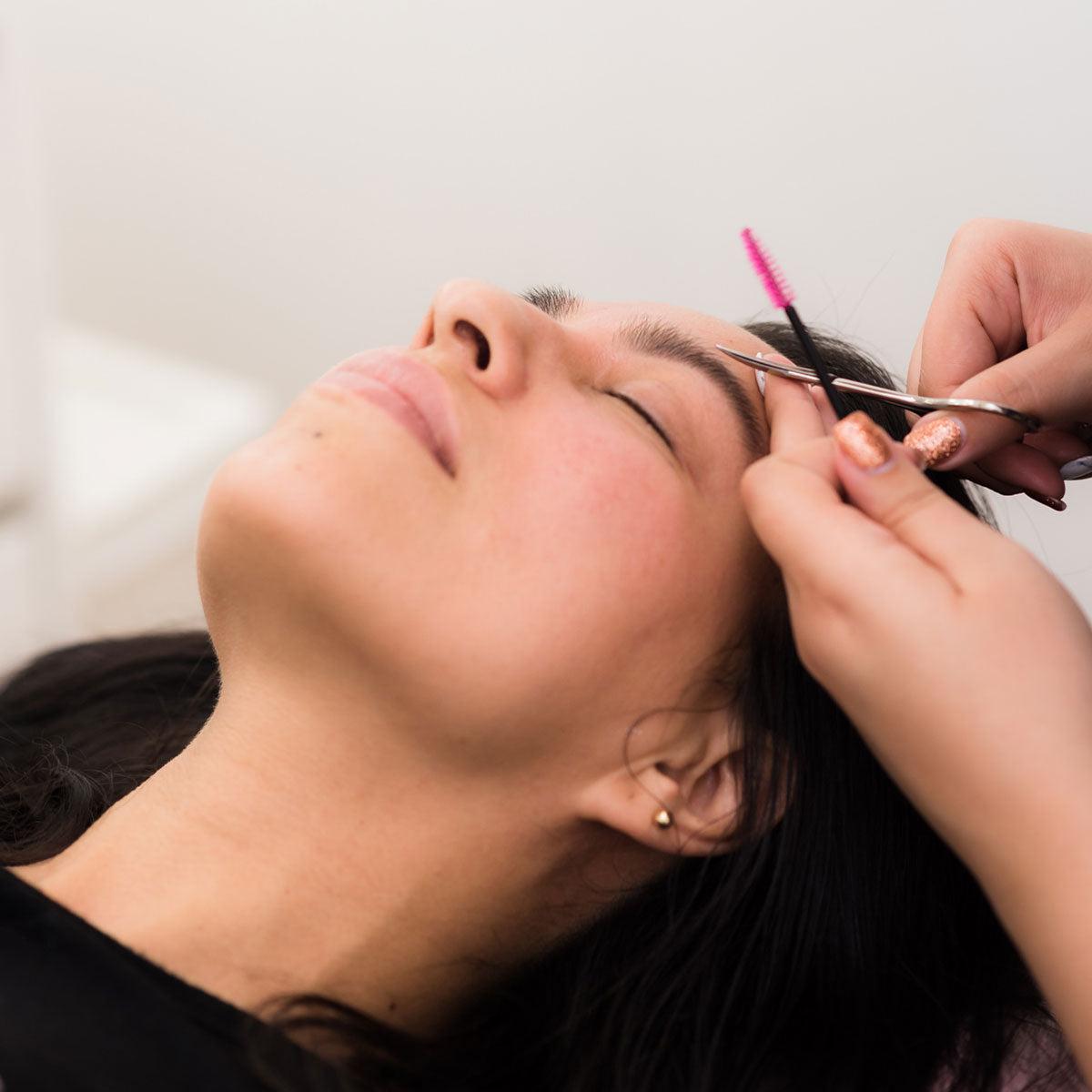 NEVER USE SCISSORS TO TRIM YOUR BROWS
This is such a no-no, it's worth mentioning again. Trimming eyebrow hairs is a skill best left to the professionals. It's very precise, and it can quickly end in disaster – like uneven patches – if you don't know what you're doing. If the hairs are getting a little long between visits, tame them by brushing strands into place and anchoring them with Kelley Baker's clear brow setting gel.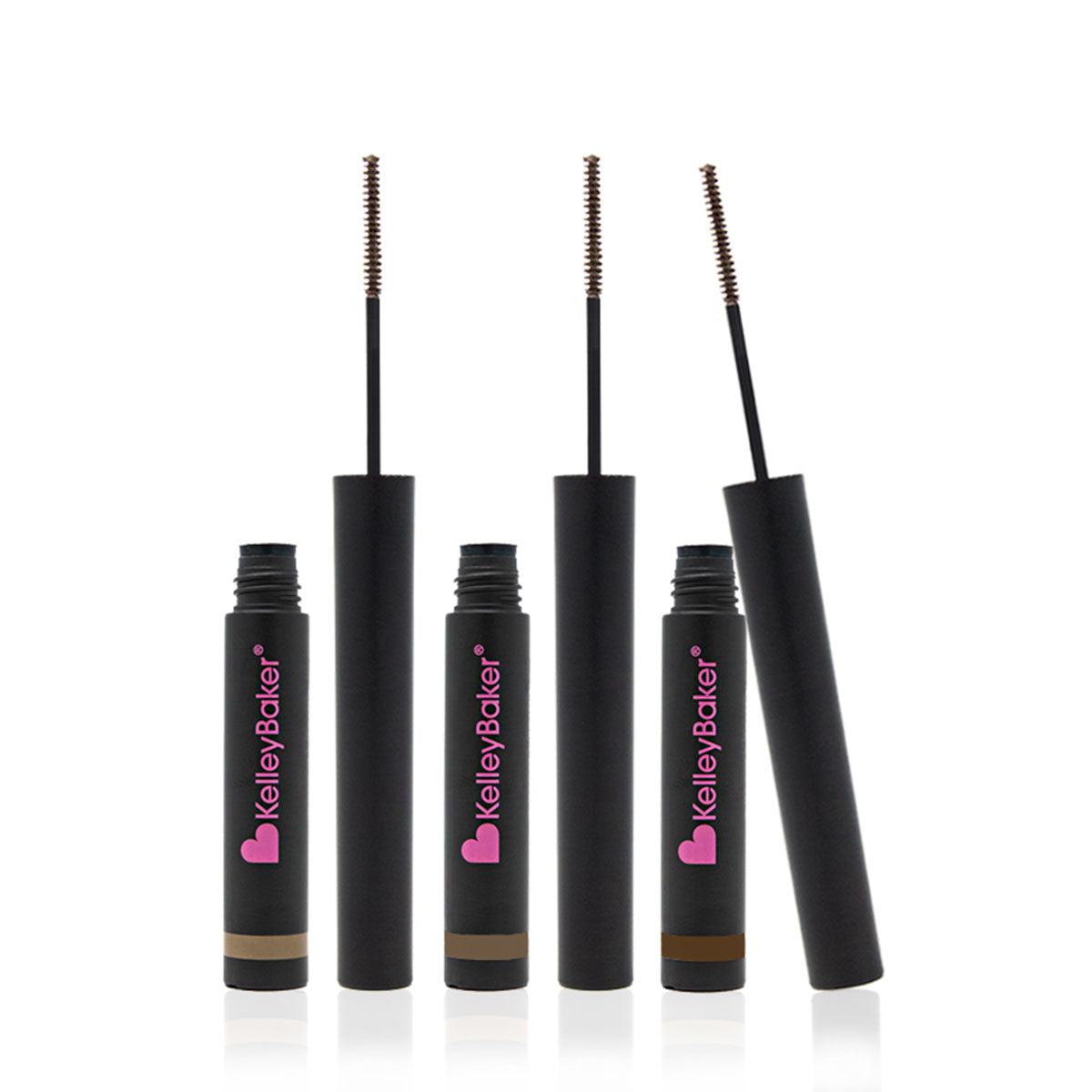 MAINTAIN BROW COLOR
As we mentioned before, trying to dye your own eyebrows at home is not a good idea. There are plenty of alternatives to keeping them looking bold between your brow appointments. For example, Kelley's tinted brow gel not only gives them a color boost but also adds more volume. Her tinted brow gel comes in three shades, and it's perfect for filling in sparse brows or covering greys (even on your hairline!) until your next brow treatment.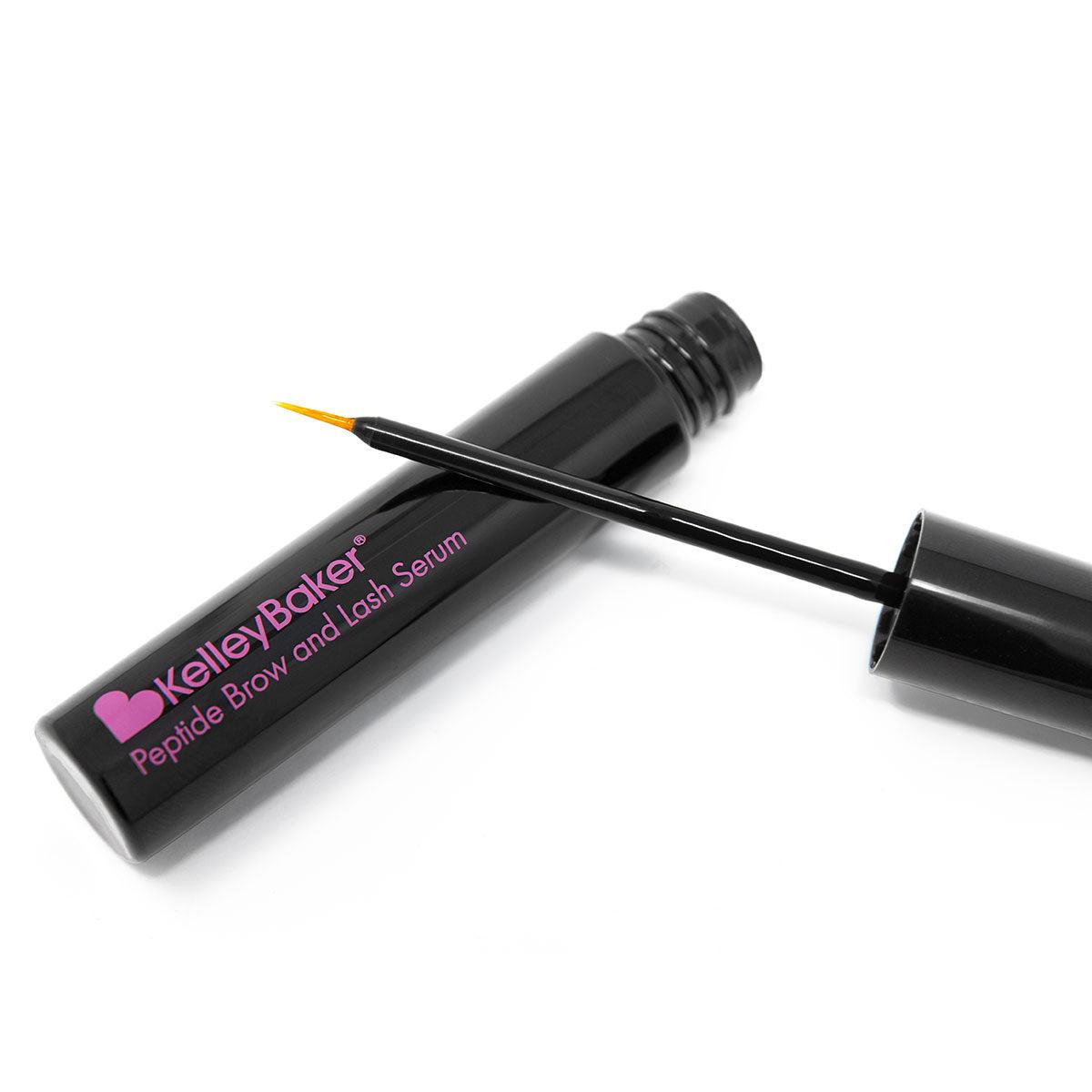 KEEP YOUR BROWS HEALTHY
Healthy brows are beautiful brows! The more brow hairs you grow, the more your brow artist has to work with. And there's good news – applying a serum to your eyebrows can stimulate healthy growth – faster. Check out Kelley's Peptide Brow and Lash Serum. This clinically proven, cruelty-free wonder serum with peptides significantly stimulates keratin gene expression and improves overall brow and lash density by 66% in 4 weeks! Imagine – the thick, beautiful eyebrows you've always dreamed of can finally be a reality.
CONCEAL OVERGROWN AREAS
This is probably the best trick for maintaining eyebrows between appointments and keeping them in shape – not to mention looking fabulous! The secret is a highlighting stick, like Kelley Baker's Camo-Light Highlighter Pencil. This multi-purpose stick can be used to gently camouflage stray hairs and keep your arches looking defined. It's best applied with a smudge brush for a well-blended, natural-looking application. This is also an excellent solution for hiding the above brow growth we mentioned earlier.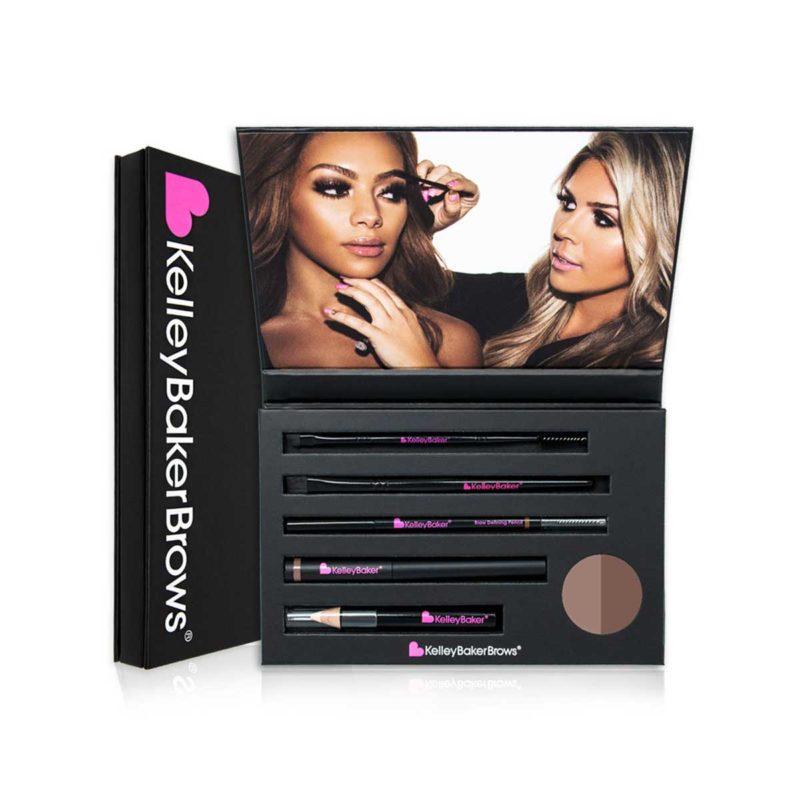 FILL IN YOUR BROWS WITH HIGH-QUALITY PRODUCTS
Keeping your eyebrows in shape between wax appointments also means giving them some TLC. For example, keep your eye-area well hydrated with a rich cream by applying it in the morning and night after removing make-up. Also, use high-quality products on your strands. This goes for eye-pencils and powders alike. If you like all of the tools and products we've mentioned, check out Kelley's Best of Brow Kit. It's stocked with Kelley's signature high-quality brow products and everything you need to groom, highlight, and define those beautiful brows until your next waxing appointment.
Natural brows are all the rage right now, but a beautifully groomed set can really change your face. Kelley has spent years creating the high-quality products she uses on her celebrity clients. We hope these tips will help you keep your brows healthy and gorgeous as you patiently wait for your next brow appointment – and cheers to always putting your best brow forward!
Ready for more brow, beauty, and lifestyle tips from Kelley and her team? Subscribe to this newsletter to get the goods sent straight to your inbox.
CHECK OUT OUR MOST POPULAR CONTENT